Are Your Text Messages HIPAA Compliant?
---
As you plan your text marketing campaign or your internal text communication, you're probably thinking about the content of those communications. However, if you work in healthcare, you also need to understand the context of your text messages. Your communications must be HIPAA compliant. How can you make sure that your text communications follow all of the rules? 
What Are the Rules Around Text Marketing Communication? 
HIPAA's communication rules are all about patient safety, privacy, and confidentiality. Communications need to ensure that patient information will not get into the public domain. You don't want patient information getting to the wrong person, and you don't want the wrong person using your phone to text information to a patient either. The fine for breaching HIPAA could be up to $50,000 per day. 
What Are the Concerns About Texting in the Medical Profession? 
The medical profession prides itself on its ability to maintain confidentiality, and this is the key when it comes to text messaging. According to the HIPAA Journal, "with an estimated 80% of medical professionals now using personal mobile devices, there is a considerable risk of PHI being accessed by unauthorized personnel." For example, someone could steal a phone and gain access to medical information.
Text messages sent from one phone to another are also problematic because they "lack encryption, there are no safeguards to prevent a text message being sent to a wrong number, text messages are stored indefinitely on service providers´ servers, and text messages sent in plain text can be intercepted," according to the HIPAA Journal.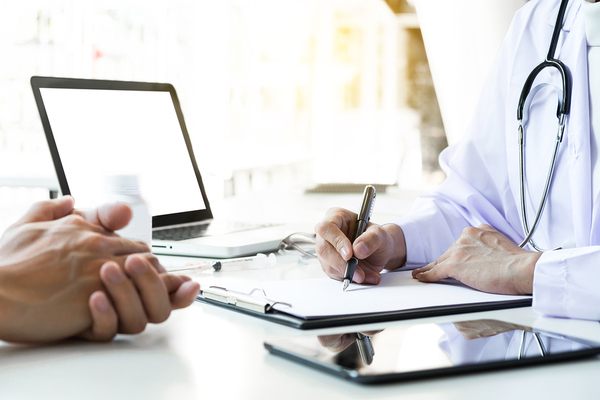 What Are the Benefits of Texting in the Medical Profession? 
In spite of its potential drawbacks, text messaging has huge potential benefits for healthcare providers. Text messaging is an easy way for healthcare staff to connect about scheduling and tasks. It's simpler to communicate about day-to-day activities such as cleaning or equipment problems if you can do so via text, since your health care team is spread out in space and may start work at different times. Patients enjoy the convenience of getting updates about their results and appointment reminders through a text as well.
What Are the Solutions for Healthcare Providers? 
Security is paramount when you're working with peoples' medical information. Instead of texting between two devices, some healthcare providers now work within a private communication network that is far more secure. Communication can take place in the usual way, and the texts won't look any different to patients, but the network is more secure, with encrypted messages. Users are not able to copy and paste, and they get logged off if the account is inactive for a time. 
Texting is very convenient for both internal communications, communications between medical professionals and patients, and mass communication. For example, if your dental practice is hosting a community event, you could use text message marketing to get the word out. However, as medical professionals, your role is to ensure that you're compliant with all of the relevant rules around medical communications. 
At EZ Texting, we work with diverse clients to help each one develop a text marketing campaign that's right for them. Talk with us about your specific needs for medical communications, and sign up for free today.
Join the 210,000+ customers who have used SMS marketing to connect with their audiences.