Business SMS: 5 Easy Steps to Get Started In Under 10 Minutes
By: EZ Texting

---
Are you tired of wasting time sending emails nobody sees and making phone calls nobody wants?
Business Short Message Service (SMS) is a channel you need to try today. Sending business marketing texts is simple, fast, and effective at engaging audiences and driving sales.
In a recent internal study, we found that 98% of text messages sent through our platform are read. Compare that with the average open rate of 21% for email, and you see why so many marketers are opting for
We'll show you just how easy it is to get going with bulk SMS for business.
Business SMS in 5 Fast, Easy Steps
One of the reasons marketers love mass text messaging is that it's easy to build the content.
You don't have to try and game a mysterious algorithm (like Google or Facebook).
You don't have to figure which hashtags are the most popular.
You don't have to come up with a catchy headline to make sure people click through.
And it's super easy to build and send campaigns. We'll show you how to get started in five steps through EZ Texting, though the process should be similarly simple no matter which platform you choose for business texting.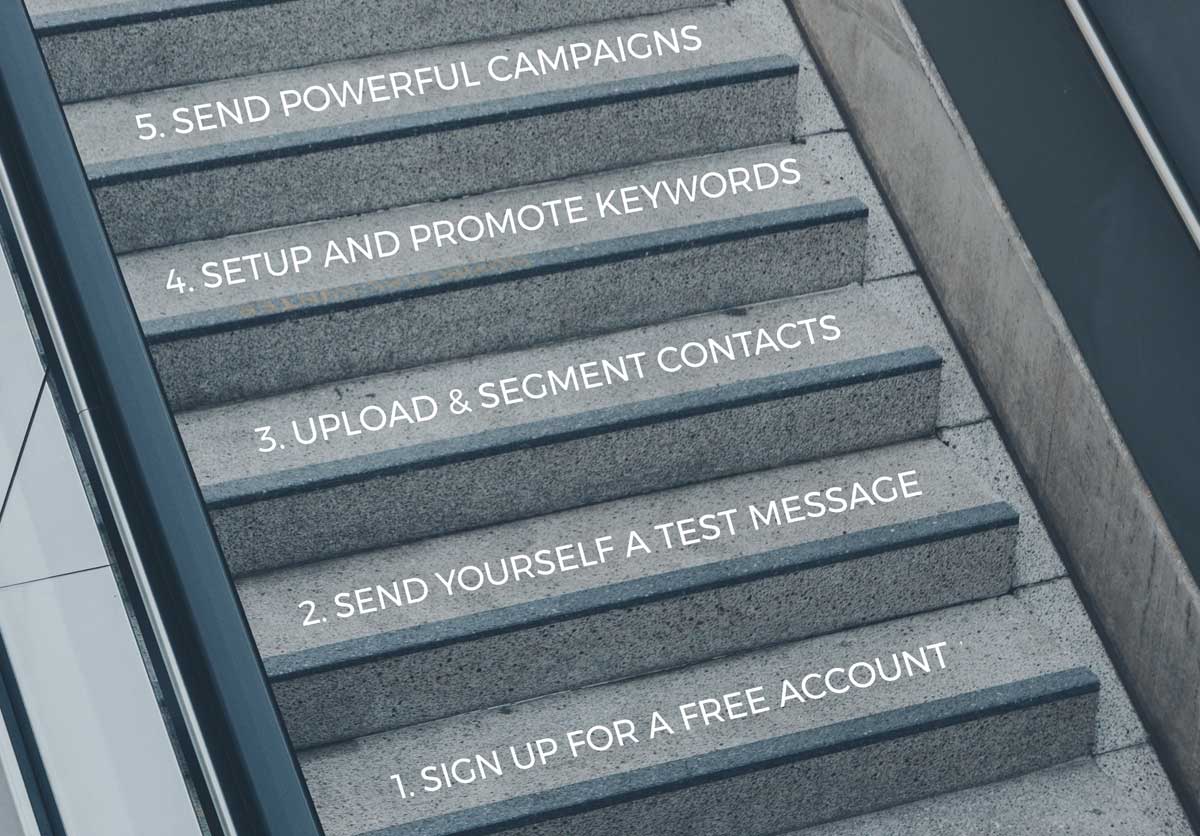 1. Sign Up for a Free Account
As Les Brown says, "You don't have to be great to get started, but you have to get started to be great."
The first step is the most important and sometimes the hardest. Just get started.
Most bulk SMS marketing services offer free trials which include a few credits to help you test their system. Our signup to send process usually takes less than 5 minutes. Once you create an account, you'll find a helpful tour interface which will walk you through steps 2 and 3 below.
2. Send Yourself a Test Message
There's something magical and hearing your first test text notification on your phone. That's the reason we made that the first step after account creation.
No matter which service you use, send yourself a test text first thing. As you compose your message, look for options to use prebuilt templates organized by industry and the ability to personalize messages with information in the contact database.
It's also helpful to keep an eye on the preview pane to see how your text will look to recipients. Some mass text messaging platforms show a live preview which populates in real-time as you type out your message.
3. Upload and Segment Contacts
Now that you have a text marketing test under your belt, it's time to upload and segment your current list of subscribers. This can either be done by copy and paste or by uploading a spreadsheet.
Make sure to upload any contact information that you may use to separate your contacts into groups to send them relevant messages. Because text messages are more personal and demand attention from the recipient, it's crucial to ensure that your texts are on-topic.
If you send communications which aren't of interest to your contacts, they'll be likely to reply 'STOP' in a hurry.
Given the importance of relevance in text marketing, one of the most important features of a business text messaging app is the ability to segment contacts into groups.
In EZ Texting, you can create as many Groups as you like. New accounts are pre-populated with three groups: Keywords, Widgets, and Test. The Keyword and Widget groups are used to separate contacts by the method through which they opted-in to your list.
Widgets are customizable, simple signup forms provided by your mass text service which you can embed on your website to get new subscribers. Keywords are words that people can text to a short code to subscribe to your text marketing campaigns.
You should also consider creating Groups to segment contacts by purchase history, customer status, text marketing activity, or demographic information. Use a description for each Group which is short and clearly identifies the criteria for the contacts who are in it.
Here is an example of a set of Groups a marketer might use to get started with segmentation.
4. Setup and Promote Keywords to Grow Your List
Text message marketing is a permission-based activity. Just because you have someone's cell number and email address and they've given you permission to email them, that doesn't mean you have permission to text them.
So growing your text marketing list deserves some thought and effort. It pays to be proactive to get your subscription list off the ground and make text marketing efforts deliver returns.
The best way to grow your contact list is to get people to opt-in by sending a Keyword to a shortcode. Watch the video below to learn how this is done.
Keywords can only be used once for shared shortcodes, so you'll have to think of a Keyword that no one else is using on your shortcode. Keywords have to be 12 characters or less.
Once you've set up your Keyword and autoresponder, promote your Keyword and opt-in incentive everywhere you can.
Put it on in-store signage.
Send it to your email contacts.
Promote it on your social channels.
Include it in your email signature.
5. Send Powerful Campaigns
Now that you have your account set up with groups and keywords to grow your list on autopilot, it's time to start marketing.
There are several types of text message marketing campaigns available to you. Decide which campaigns will help you accomplish your business goals. Some options include:
Text alerts
Contact birthday messages
Job opening alerts
Contests
Discounts and Specials
Order Confirmations
See more campaign ideas in our post Business Texting: 13 Ways Businesses Use SMS Texting to Reach Customers.
When sending text message marketing campaigns, make sure to learn from the experience of others. We've compiled a list of tips that you should keep in mind as you build campaigns in a post titled How To Mass Text for Business: 9 Game-Changing Tips. See the short list below and read the full post to get more detail.
Don't send too often
Send at the right time of day
Keep a consistent brand voice
Personalize
Include a CTA
Mention who the text is from
Getting Started with Business SMS Shouldn't Be Complicated
That's it. Five simple steps and you'll be off to the races.
Keep in mind that you can begin to evaluate the quality of a business SMS provider during that first step: signing up for a free trial. One of the often-overlooked factors which should influence your decision on a text marketing platform is ease of use.
If signing up for a free trial isn't straightforward and fast, you probably won't be satisfied with the platform down the road. Our simple signup to send process usually takes less than five minutes.
You can start a free trial with EZ Texting here.