6 Creative Marketing Tools to Skyrocket Your Agency Growth
---
What are you supposed to do when you needed a creative asset yesterday and your favorite go-to designer is too slammed to help?
Your clients count on you to get work done on time that looks professional and performs to their expectations. So it's understandably frustrating when you're stuck waiting on someone else to get a simple graphic or quick video over to you.
It's time to take creative control of your deadlines. These hand-selected, expert-recommended tools will put you back in control and churning out content on time.
6 Creative Marketing Tools
These tools were individually selected based on 2 main criteria:
Their ability to be utilized effectively in an agency setting.
How well they produced professional results without technical know-how.
So what are you waiting for? Pick up at least a couple of these tools and get those deadlines back in check.
1. Canva: Images & Infographics
"Not all of us are graphic designers. I know I'm not, and when I first started my business, creating professional-looking graphics was something I really struggled with. Fortunately, I found a whole slew of tools that made it easy for me. Now, the one I use almost exclusively is Canva, an amazingly simple drag-and-drop editor with pro-level results."
— Angle Dunnigan, Founder of aka Media Marketing (source)
What Is It?
Canva is a simple online graphic design tool that gives you the ability to create professionally designed graphics without the need for advanced technical knowledge or design ability. It features a simple-to-use drag-and-drop interface alongside a library of templates designed for both web and print media.
How Does it Work?
You start by simply selecting the type of design you want to create — such as a social image — and then you can browse through Canva's database of professionally designed templates until you find the perfect one. 
The paid version of Canva gives you the ability to save libraries of brand information like fonts and colors to make it simple to turn out on-brand assets quickly. You also will have access to their library of stock images so you don't need a third-party stock photo site.
You can easily customize the template with your brand's color scheme and fonts, and you can even create or upload your logo with ease. 
When you're done, download your finished graphic in the format Canva recommends or customize the file type and transparency to suit your needs. You can even publish your design to the web to make it easy to share with clients.
2. Mysimpleshow: Explainer Videos
"I use Mysimpleshow to teach content writers in our corporation. I have been using Mysimpleshow for almost a month, and I like how it makes it easy to create explainer videos. Mysimpleshow has organized design that allows me to explore every feature that it has. To me, I view Mysimpleshow as a great presentation software." 
— Alex W., Director of Content Services (source)
What Is It?
Mysimpleshow is dedicated to promoting a good explanation. They took their years of expertise hand-crafting explainer videos and built a software platform that's easy for non-experts to use to create concise and engaging explainer videos.
How Does it Work?
You start by choosing one of their storyline templates or by uploading a PowerPoint file. Mysimpleshow gives you tips and hints to help you craft an awesome script. 
The Explainer Engine will generate a Storyboard for you to tweak and customize as you see fit. Then, you can finalize your video by choosing a playback speed, voice-over, and publishing the perfected result on YouTube.
Watch the video: Mysimpleshow Examples
3. Mockplus: Prototyping & Collaboration
"Design is a team sport. It's essential to get your team on the same page all the time. Mockplus makes your design life much more comfortable. With Mockplus, you can collaborate with your peers in real-time. Review designs together, conduct brainstorming sessions online and create smooth design-development handoff." 
— Nick Babich, UX Architect, and Writer (source)
What Is It?
Create the mockups you want with an intuitive drag and drop interface — no coding required! Collaborate with your team and ditch the confusion so you can get the results you want faster.
How Does it Work?
Mockup lets you create personal or team projects, build interactions using drag-and-drop tools, preview your projects on mobile devices and desktops, and collaborate with your team and clients effortlessly. Interactive prototyping streamlines your process, and you never have to touch a single line of code. 
4. ClickUp: Organizational Planning
"If ClickUp were a person, we would be best friends. I could write pages upon pages about ClickUp. But since you're probably not a project management nerd like me, I'll save you from the bore. I highly recommend ClickUp if you are an agency, are outgrowing your current platform, or project manage using Agile."
— Ericka Marett, Project Manager at Adhere Creative (source)
What Is It?
ClickUp is a project management software that makes it easy to keep track of your to-do's for your agency as well as for your clients. Take your project management skills to the next level and maximize your productivity so you can stay on task.
How Does it Work?
Add tasks, notes, and upload documents so you can manage all the essential info for a single project in one place. You can even add comments to inform your team of updates or crucial information about the project.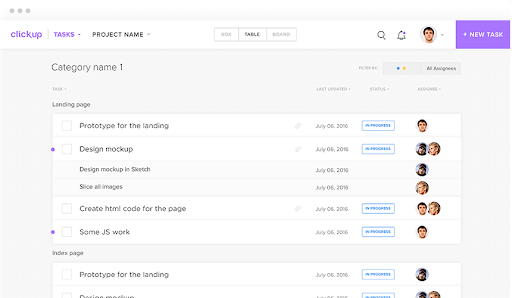 Photo Source: ClickUp 
5. Stormboard: Digital Whiteboards
"As a market researcher, it's my job to distill a huge amount of information into focused and actionable insights and recommendations. Stormboard helps me bring structure to the effort, which saves a ton of time. I can take notes quickly in real-time discussions, capturing unique ideas on each sticky note so I can organize into themes later."
— Kelly H, Senior Consumer Insights Manager (source)
What Is It?
Streamline your meetings and kickstart the creative process within your team and your clients by implementing Stormboard. From presentations to brainstorming, it keeps you organized with a minimal learning curve.
How Does it Work?
Stormboard can be used for product development, design thinking, meetings with people across the world, idea buckets, and even UX design. Standardize your processes and work faster with their built-in templates. 
Stormboard makes generating instant reports a breeze, and you can export them as PDFs, Word docs, or one of the other supported file types.
6. EZ Texting: Content Promotion
"If you need to send a marketing message, a coupon for tracking purposes, or want to hear back directly from your customers, this is the best software on the market for those needs! I suggest creating a campaign around texting and offer discounts and coupons with codes you can track to see when is the best time for delivery, etc. and that is so super easy with EZ!"
— Kelly M., Communications Director (source)
What Is It?
EZ Texting provides the tools you need to maximize your marketing efforts with SMS messaging. You can help your clients reach a wider audience for promotions, reminders, and other messaging by utilizing the texting service that their customers already have on their phones.
The stats on texting as a marketing channel speak for themselves:
Texting is the most used mobile app; 97% of Americans use it at least once per day.
80% of people currently use texting for business.
Consumers are more likely to open text messages before any other form of mobile communication.
Text messages are opened and read almost 138% more than email (98% to 18% open rate).
90% of all text messages are read within 3 minutes of being received.
How Does it Work?
Advertise your keyword and short code, send promotions, reminders, notifications, and watch your sales increase, and your engagement skyrocket.
How do You Get Started?
Sign up for our free trial so you can send your first 100 messages for free and test out all the features our software has to offer.
Some of Our Most Popular Features
Drip Campaigns
Personalization
Recurring Messages
EZ Chat
Poll Builder
Scheduling
Tracking and Reports
After you've started your free trial, it's time to up your game and become a text message marketing master. Download your copy of our easy-to-follow guide, The 9-Step Roadmap to Mastering Text Message Marketing, and discover the nine steps every new SMS marketer should follow for success.
You can also join our Agency Partner Program for specialized pricing, in-app agency branding, a dedicated account manager, and more.
Photo: Adobe Stock/y6uca