Cyber Monday Marketing Strategies That Customers Love (With Examples)
---
Are you ready to fight your competitors and win big on Cyber Monday? After a long week of big meals and family time, consumers are primed for holiday shopping, and your retail business needs to be prepared.
This year, the online shopping frenzy promises to be fiercely competitive. If you want to score a click, you have to get creative and cut through the marketing noise.
To help you get started, we've compiled a list of some of the most powerful Cyber Monday marketing strategies that we've ever seen. With each strategy, we've included some amazing real-world examples that you can draw inspiration from for your own holiday marketing campaigns.
5 Cyber Monday Marketing Strategies Guaranteed to Boost Sales
According to recent data, more customers shop on this retail holiday than Black Friday. Last year, consumers spent a whopping six billion dollars during Cyber Monday. The sales opportunities here are enormous, and if your retail business hasn't developed a holiday marketing plan, you could be leaving money on the table.
Don't miss out on your slice of the holiday shopping pie! Put these Cyber Monday marketing strategies to the test:
1. Give Away a Free Gift
For most businesses, giving away a free gift during the holidays might feel a bit counterintuitive. However, it's a brilliant idea that thousands of retail organizations take advantage of every season. Your customers can keep the gift for themselves, or they can re-gift to friends, family, or coworkers. Either way, it's a great opportunity to show your customers that your care.
Here are a few things to consider when building your own free gift campaign:
Make gifts limited: There's nothing wrong with a little scarcity. When customers know that the gift will only be offered for a limited time, they'll be persuaded to complete their online purchase right now instead of shopping around.
Set a minimum order amount: You don't have to give away gifts for every order. Setting a minimum order total might encourage an additional purchase or two to qualify for the free gift. It's a great way to get customers to stretch their wallets.
Try free gifts over discounts: If you sell luxury products, you might not want to dilute your brand with discounts. Instead, incentivize customers with a free gift.
Here's an example of a free gift campaign:
Last year, Chubbies offered a free gift with every online purchase. The best part was that free gift changed every hour. However, instead of quietly swapping out the gift every hour, the brand did some pretty cool preparatory work and day-of promotions.
Take the extra step with your own holiday promotion by deploying free gifts via text message marketing. With the right text message marketing provider, sending the right kind of gift at the right time is super easy!
2. Partner With Another Brand
Think about the ways that you can partner (nationally or locally) with other brands. A brand partnership helps to expand your reach, allows you to capitalize on new trends, and helps to create a bigger holiday splash. Try to find a brand that offers a complementary product or service. In this way, there will be some audience overlap.
Recently, Bombas and Sesame Street teamed up to create a limited edition set of socks that feature special television characters. The brand even created a combo parent-toddler gift set, making for an easy and seamless transaction.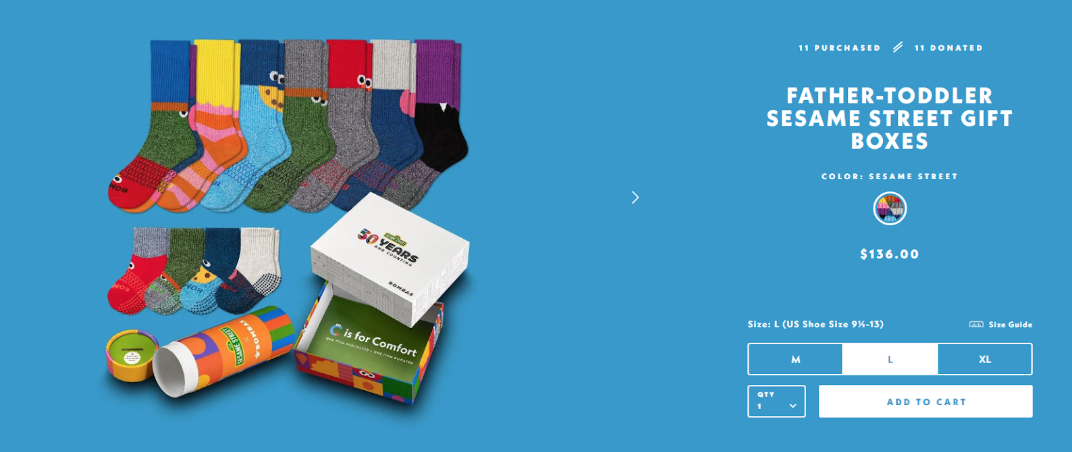 To take your own holiday partnership to the next level, you could leverage the power of business text messaging. Use this tool to alert prospects and customers to your new brand partnership. In an instant, you can reach your target audience, give them all the pertinent information, and encourage them to make a sale.
3. Build a Holiday Gift Guide
Most consumers do their research before big sales events. According to recent studies, 18% of consumers start researching holiday shopping in September, and 40% start researching in November. Moreover, online searches for "gift guides" starts spiking in October and peak in December.
The simplest strategy is to publish your own holiday gift guide. Keep in mind that people are likely searching for specific people or searching for gifts that fulfill a specific interest or hobby. As such, your guide should include plenty of photos, links to relevant products, an easy-to-use navigation, a search feature, and more.
Alternatively, you can try featuring your products in someone else's gift guide. There are plenty of high-traffic and niche-specific websites that feature special holiday round-ups. Your retail business can really benefit from this extra exposure.
Last year, The Grommet introduced a special holiday gift guide. Customers could search by price point, recipient, interest, or occasion. This guide was a complementary feature of larger landing pages like gifts for men.
You can really strengthen your own holiday gift guide with MMS messaging. MMS provides a rich digital experience through images, audio, and visual files. Send simple snapshots of your products and link recipients to a web page to complete their purchase.
4. Interact With Customers
As you know, online shopping can take some of the excitement and brand engagement that customers experience with in-store sales. As such, you have to get creative with the ways that you help customers slow down and really "experience" the brand in the digital space.
You could host live online events, release limited-time lightning sales, leverage the power of online chat, or send mobile coupons via text message.
Recently, MeUndies hosted a 2-hour event on Facebook Live. The brand also ran an ad campaign targeting customers that recently opened brand emails. As more viewers tuned in, the brand unleashed bigger and bigger discounts on holiday items. More than 13,000 people tuned in, and event attendees converted at an astounding 25% – 13x higher than the normal conversion rate.
When building your own interactive holiday campaign, your text message marketing tool makes it easy to interact and communicate with prospects and customers one-to-one. Respond to inquiries and questions in real-time!
5. Offer Free Gift Wrapping
Gift Wrapping may seem like a throwback to the 20's-style department store wrapping stations, but it's in high demand at the holiday season — especially for online shoppers. Some people prefer to receive packages pre-wrapped just to make it easier to get everything under the tree. Others are shipping presents directly to the recipient and won't have a chance to wrap it before it arrives.
Either way, offering gift wrapping can make the difference between someone choosing to buy from you on Cyber Monday vs. your competitor.
As a bonus, try to find ways to be creative with your packaging and create an experience for the recipient. Not only are you more likely to sway a hesitant shopper towards a purchase, but you get the added bonus of encouraging user-generated content (UGC) when they receive it.
Customers can create videos and take photos of the experience and share that content on their social media channels and send more shoppers your way.
Man Crates does an amazing job with this approach. From Duct Tape Cacoons to Manly Crates and Ammo Boxes, they create an experience that's more than just the products themselves. They include videos of the experience on their product pages, so gift-givers can truly comprehend the awesomeness they are delivering with their present selections.
Bonus: Make Shopping Easy With Text Marketing
If you haven't heard, text messages have unmatched open and response rates compared to other marketing channels. In fact, our recent study revealed an astounding response rate: 90% of people respond within 30 minutes. And the immediacy rates back up this impressive text marketing stat: 70% of people check a new text message within five minutes.
There are so many great ways to use text marketing during the holidays:
Hourly Sales Alerts: Send a text letting customers know what products are on sale this hour.
Shopping Cart Reminders: If customers leave products in their online cart, send a text encouraging them to take the next step.
Product Spotlights: Link customers directly to products online.
Customer Service Help: EZ Chat enables personalized one-to-one communications that can help you answer questions and build shopper confidence.
To learn more about the benefits of text marketing during the holiday season, we invite you to download our new study: 2019 Mobile Usage Report: How Consumers Are Really Texting.
Photo: Getty Images/Eva-Katalin