7 Digital Marketing Agency Trends to Prepare for in 2020
---
Are you implementing any of these top trends for your agency or your clients yet? 
As a marketing agency, you have a professional obligation to stay on top of the latest trends in your space. Your clients count on you to utilize various strategies to get results, and your ability to hold your own in your space demands that you maintain a competitive advantage.
We've talked to the experts and compiled a list of the top 7 trends that you need to put on your radar in 2020 if you want to keep up.
7 Digital Marketing Agency Trends
Get ahead of the pack and boost your sales by staying ahead of the latest trends. Voice search, AR (augmented reality), VR (virtual reality), automated chatbots powered by AI (artificial intelligence), and text message marketing are just a few of the latest trends that are taking over the market. 
Let's dive into the top 7 trends you should know about and discuss how each one can boost your business in 2020.
1. Voice Search
"The number of households that own a smart speaker is expected to rise 55% by 2020, and 50% of all searches will be voice searches."
When voice search started showing up on mobile devices, it wasn't that popular. The technology was pretty buggy in the beginning, and the AI couldn't understand accents or words that were not enunciated clearly. 
Since then, the AI behind it has advanced by leaps and bounds. It gets smarter with each passing year and more people are using voice search. Since devices like Amazon's Alexa and Google Home hit the shelves, the number of voice searches performed has skyrocketed. 
How to Optimize for Voice Search
Traditional SEO optimization involves creating content for short keyword phrases that match the most commonly used search queries typed in search engines. 
However, those tactics won't work for voice searches. 
When we ask a question out loud, we tend to use much longer, more conversational phrases instead of short and fragmented search queries.
For example:
Browser Search: "mashed potato recipe"
Voice Search: "Alexa or Hey Google, how do I make mashed potatoes?"  
This means that you will need to create new content that is optimized to suit these longer keyword phrases better. For more ideas on how to optimize for voice search, check out this article from SEMrush.
2. Shoppable Social Posts
"Every month, 47% of users shop on Pinterest, 15% of users shop on Facebook, and 130 million Instagram users tap on shopping posts."
Social networking sites like Pinterest, Facebook, and Instagram have kickstarted a new trend — "social shopping." Social shopping allows users to buy items directly on social channels.
Instagram's new features allow you to tag products in your image posts similarly to how you tag people in photos. This makes it possible for your followers to tap, view, and buy multiple products from a single photo with ease. 
Facebook launched built-in shops for business pages that gave admins the capability to upload products to their page. Customers can shop your store on your page and share your products with their friends.
How to Create Your 1st Shoppable Post
Create your first shoppable post with help from this article from WordStream.
3. Immersive Brand Experiences Using AR and VR
"The worldwide AR and VR market size is forecasted to grow 7.7X between 2018 and 2022."
AR is an alternative to traditional advertising that lets you give your consumers a new way to interact with your brand. You can take it up a notch further by using VR to immerse your consumers in a 3D world. 
AR and VR can be used to feature new products at trade shows, educate staff members, and delight your audience.
How Ford Got Creative with AR
Ford got creative with AR and gave motor show attendees a virtual tour of their new cars through an app. Their success has been one of the most talked-about examples for using AR to showcase products at an event. You can read the whole story here — Auto Show Shows Off VR Technology. 
4. Personalized Experiences
"91% of consumers are more likely to shop with brands that offer relevant promotions and recommendations, and 80% are more likely to buy from a brand that provides a personalized experience."
Your customers crave a shopping experience that shows you know and understand them well. Your products need to solve their problems, and every interaction with your brand needs to be as personalized as possible. 
Get Personal with SMS Marketing
Text message or SMS marketing is a great way to create personalized experiences with your brand. You can utilize features like 2-way chat to engage in one-on-one conversations with customers or send out targeted texts based on interactions they've had with your company. Learn how to create personalized SMS campaigns in this article from EZ Texting.
5. Search Position "Zero" – the Featured Snippet
"Ranking first and having a featured snippet for a specific search term will gain you 31% more traffic vs. just ranking first."
Featured snippets are Google's new way to answer a user's question right away. They are the featured boxes that show up in search results below the ads.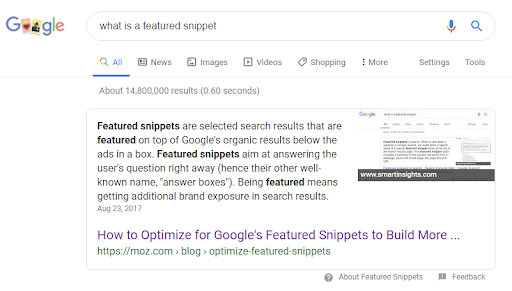 Example of a Featured Snippet
How do you get featured in snippets?
The five types of featured snippets are the paragraph, numbered list, bulleted list, table, and YouTube video. It's possible you already own a featured snippet, and you don't even know it. 
Check out this article from Ahrefs to find out how to look up snippets you already own, and how to discover opportunities to steal more.
6. Chatbots
"95% of consumers believe that chatbots will benefit customer service the most."
AI-powered chatbots are making it easier to communicate with potential shoppers and answer any questions that could impact their decision to buy. Chatbots are implemented through standalone apps or web-based applications. 
To find out more about chatbots and how to implement them into your overall marketing strategy, check out this guide from SproutSocial.
7. Text Message Marketing
"90% of all text messages are read within 3 minutes of being received and text messages are opened and read almost 138% more than email (98% to 18% open rate)."
In a recent survey, we asked 1000+ participants between the ages of 18-65+ about their mobile usage habits. The results we found were shocking! 
"90% of survey respondents admit to checking their phones within 30 min of waking up, and over 50% of people check their phones 5x per hour."
Of all the trends to keep an eye on — this is the one you NEED to jump on NOW! Text message marketing gives you the ability to send messages to customers using their smartphone and texting apps that they already have. They don't have to download any additional apps, visit any specific websites, or go through any complicated sign-up processes.
Customers can simply text a keyword to your shortcode and start receiving messages from you that are highly targeted and relevant.
How Do You Get Started?
Start your free trial with EZ Texting to send your first 100 messages for free, and test out all the killer features we have to offer — drip campaigns, shipping alerts, loyalty programs, and even two-way chatting via EZ Chat.
After you've created your account, download your free report and gain access to key insights that will help you create amazing campaigns — 2019 Mobile Usage Report: How Consumers are Really Texting.
You can also join our Agency Partner Program for specialized pricing, in-app agency branding, a dedicated account manager, and more.
Photo: Adobe Stock/Flamingo Images