The EZ Guide to SMS Marketing for Restaurants
---
Simple and easy: what could be better when it comes to marketing strategies? While text marketing and SMS marketing are simple, simple tools can be better tools in many marketing situations. As you build your base of customers and spread the word about your restaurant, get started with SMS marketing to help your business grow. 
What is SMS Marketing? 
SMS marketing is also known as text marketing. With text marketing, you can either send SMS messages that focus on text or multimedia MMS messages that use pictures to market your products. 
Text message marketing has some advantages over other marketing techniques. First, it's straightforward. Since you only have 160-characters to make your point, those characters must make a strong impact on your customers. You don't need to write a lot of flowery words: you just let your customers know what's happening, and more importantly, how they can take action.
SMS marketing is also a fast way to connect. While a lot of people have smartphones, not everyone is internet-connected all of the time. This means that if you rely on email to get a message across quickly, you will miss out on customers who would love to redeem that last-minute discount on a Friday night. Text messages reach the majority of your potential customers: 90 percent of adults in the U.S. use mobile phones.
SMS Marketing Addresses Diverse Needs 
SMS marketing isn't just about sending out a note to advertise to your customers. While text messages may be short, they address many diverse needs. With SMS marketing, you can: 
Attract new contacts to your text messaging database 
Conduct surveys with your existing contacts
Sort your contacts into different groups so that you can divide them according to their interests, geographic location, or whatever other descriptions work for your restaurant. That way, you can target your future marketing efforts in a more precise way.
Communicate internally with your restaurant staff as well.
How Can Restaurants Succeed Using SMS Marketing? 
Your restaurant has delicious specials and seasonal treats. How can you give a glowing report about these dishes in 160 characters? Will text messages really work to convey the scope of what you can offer to your customers? 
You can ask them to act with calls to action such as "show this message to your server" or "order online."
Give your customers a special status by adding them to your text message marketing campaign. For example, according to Touch Bistro, Papa Murphy's used words such as VIP in their text campaign, "convincing readers they're part of a secret, free cheesy bread club."
Use clever abbreviations or emojis to make your point. For example, Domino's Pizza asked customers to text a pizza emoji when they were ready to order. This makes your restaurant memorable, and it makes ordering simple.
SMS marketing is a way to grow relationships with your customers. Whether you're creating a poll to learn more about your customers' needs, developing an easy way to build bridges with new leads, or notifying your customers about a seasonal sale, text message marketing can connect you with your customers quickly and easily.
SMS Marketing Success Story: Couch Tomato Cafe 
As you move into the world of text message marketing, you can learn a lot from those who have used text messages to build their business. The Couch Tomato Cafe in Philadelphia was looking for marketing campaigns that were easy to track so that they could fully understand the impact of each of their marketing choices. 
The Couch Tomato collected cell numbers even before they created a relationship with a text message marketing company. They were ready to go with more than 5000 numbers when they launched their campaign. While at first, they did not see a lot of success with general announcements, they found great success with their first time-limited discount offer. Their offer of free quesadillas brought in an extra $1050 on a Friday night, and that was just one of seven days that the offer ran. The company has decided to send out occasional offers via text to keep customers guessing about when the next discount will arrive.
SMS Marketing Success Story: Domino's Pizza 
The Domino's Pizza franchise at UNC-Charlotte decided to try out a text marketing campaign to connect with some of the 25,000 students at the school. The restaurant realized that most of the students were engaged with Facebook, so they used it as a platform for communication. Many of the students were also sports fans. Through a clever combination of arena marketing targeted at basketball fans attending the game, the restaurant offered free pizza to those who signed up for their Facebook group using a text message. This not only resulted in additional Facebook group members, it also led to over 100 pizza orders. 
The restaurant has used text messaging to build its social media presence and create targeted advertising for a specific group of students.
SMS Marketing Success Story: Let's Eat 
Let's Eat! had a specific need to reach out to its walk-in clients. The restaurant prepares meals for clients who cook them at home. While most customers pre-order, many people also walk in looking for dinner. If there are no meals available, the restaurant loses out on a potential sale. They needed a way to let customers know when there would be fresh meals available that evening. 
Customers signed up for a Dinner Tonight program that was focused on fresh meals available that evening. The company timed texts to coincide with the end of the work day and found that they have been able to keep more fresh meals on hand and satisfy more walk-in customers because of the certainty that the text campaigns bring.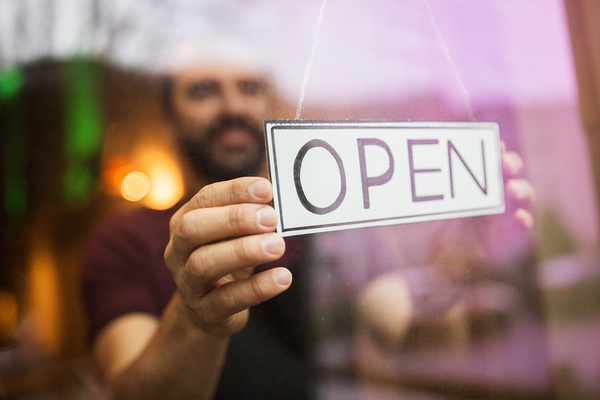 Writing Your Own SMS Marketing Success Story
You've created a few social media profiles, you have flyers that go to homes in your area, but you're looking for more ideas to build your restaurant's marketing strategy. Would you like to be the next case study in SMS marketing success? Enter your email below, and get instant access to tips on building a successful strategy for your business. 
Goals for SMS Marketing Implementation 
As you begin your restaurant's SMS marketing campaign, know what you'd like to achieve. SMS marketing is a very targeted type of marketing. You're asking customers to take action, and you need to know what action you would like them to take. Some goals you might have are:
Increase your databases of leads.
Create more defined groups within those databases, so that you know who likes to come in for lunch and who's interested in family specials.
Get feedback on specific products or interests that your customers have so that you can refine your offerings.
Test out different marketing strategies, such as sending out marketing messages at a specific time of day or to people in certain locations. 
Increase interest in a new product or offering or at a specific time of the day.
Checklist for a New SMS Marketing Campaign 
Restaurant marketing campaigns can be very targeted toward consumers' needs. How do you make sure that you create and implement a successful campaign? 
Find a text message marketing platform that suits your needs.
Develop your database. Create initial offers that encourage people to sign up. For example, they could text a specific code for a discount, or they could sign up through a widget on other social media or website pages owned by your restaurant.
Make sure that your audience is opting into your text messages. Don't spam your customers: have them sign up for a service that they will enjoy.
Segment your audience when possible, so that you have the ability to send out information to people in a specific area or with certain interests.
Conduct surveys via text so that you know even more about your audience's interests. For example, if you're trying to decide how to expand your fast food lineup at lunch, ask your customers to reply with "pizza" or "burger" or "salads", depending on what they would like you to expand.
As you develop your database, refine your goal for your next campaign, and know the audience.
Plan your message, with a specific Call to Action (CTA) that connects to your goal.
Plan your timing. Generally, people are interested in ordering around breakfast, lunch, and dinner time. Schedule your texts to arrive at that time. 
Consider a time-limited offer. People generally read and reply to texts within 90 seconds. Consider how you can create urgency around your offer.
How to Monitor the Results of Your SMS Marketing Campaign
According to Business2Community, "your SMS marketing campaigns should focus on offer redemption." SMS marketing isn't the time to send out general information. You can do that through other venues, such as your blog. What should you measure after your campaign is done? 
How many people clicked on the link in the offer, if applicable? 
How many people redeemed the offer? 
How many people opted out of texts after receiving the offer? 
Review your campaign to make sure it gave people a feeling that they were an important customer receiving a valuable, time-limited offer. Track your results via your chosen text marketing service's platform. Platforms like EZ Texting offer valuable reporting metrics for customers, providing visibility into campaign results.
At EZ Texting, we're committed to helping you build your business through savvy marketing techniques. Text messages are for more than advertising sales: they're an excellent way to connect with your customers and build a relationship over time. Learn more about the many ways that text message marketing can help you grow your business leads. Best of all, as you begin to build your capacity to create SMS marketing campaigns, you can try out EZ Texting at no cost. Sign up for free today.