SMS Business Ideas: 8 Innovative Ideas You Can Swipe Now
---
Has your marketing turned vanilla lately?
It can happen to the best marketers. Sometimes, we need to snag some Short Message Service (SMS) business ideas from other innovative marketers and adapt them to our business.
We'll show you some creative SMS business ideas from real-life case studies that you can easily swipe and use to put your marketing into overdrive. Borrow a few of these ideas that make sense for your market, and make sure to let us know how it goes.
8 Creative SMS Business Ideas to Steal and Send
As a business text messaging service, we've been helping companies engage with their prospects and customers through bulk SMS for over a decade. We've seen some clever and effective uses of business texting, and our experts have hand-selected a few of the best SMS business ideas to share with you.
1. Promote a Weekly Special
Did you know that it costs five times more to acquire a new customer than to keep an existing one? That means your marketing to existing customers will yield a much higher ROI than marketing to people who have never done business with you.
If you have a restaurant, retail store, or personal service business which can serve return customers regularly, use SMS to keep those people coming back again and again. One creative way we've seen a business use text marketing is with weekly specials.
Brian Alvarez of Brian's Place restaurant in Hernando Beach, Florida uses his VIP text list to promote his special fish catch of the week. The catch of the week is a limited supply offer, so customers know they need to come in quickly before he runs out. Brian's catch of the week sells out three times faster when he sends out a text to his VIP customers.
One key to the success of this campaign is Brian's use of a mouth-watering picture of the dish he includes in each Multimedia Message Service (MMS) text. Read the full Brian's Place Case Study and then check out 5 Ways to Make Text Message Marketing for Restaurants Sizzle for tips on restaurant bulk text marketing.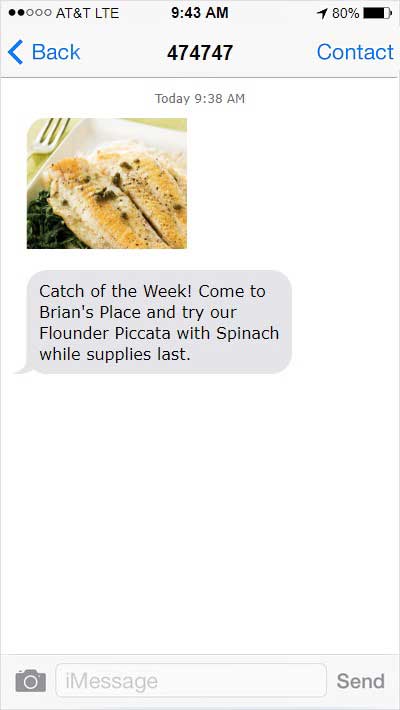 2. Grow Your List During Live Events
If we could only give one piece of advice to marketers who are new to mass text marketing, it would be to use Keywords to grow their subscription list.
Maybe you've promoted your business at a live event by trying to get people to "Go to our website at www..." or "Find our Facebook page by searching for..." The response to those types of calls to action during an event is typically extremely low. It's just too complicated when people have other things on their minds.
Ryan Swanson, who runs a Domino's Pizza franchise in Charlotte, North Carolina, got those same disappointing results again and again at the UNC Charlotte college basketball games he sponsored.
But when he switched it up and asked fans to text a Keyword to a short code, he got a much higher response. The first time he switched to a text message call to action, roughly 10% of the 3,000 students attending the game texted in within a few minutes—and another 5% did so by the end of the night—resulting in nearly 600 opt-ins. Read the full Domino's Pizza SMS marketing case study.
Another innovative use of Keyword opt-ins at a live event is when Situation, a marketing agency, exploded text subscriptions for and attendance of the Mean Girls Broadway musical. During the 2018 BroadwayCon, attendees saw graffiti on bathroom mirrors encouraging them to text 'FETCH' to 797979 to get the latest gossip.
The campaign was a huge success in part because of the clever auto-reply which included a picture of one of the stars and some on-message language...
Get more "gossip" from this creative text marketing campaign
here
.
3. Use Reminders to Boost Orders
Prospects and customers who either forget to show up for a meeting or come unprepared can be a huge drain on your business. This was certainly the case for Jostens, a provider of yearbooks, caps and gowns, and class and championship rings.
Jostens sales reps used direct mail and phone calls for decades to make sure that students knew when they would be in the school to take orders. Those channels had high costs and low returns.
In 2008, a group of Jostens sales reps in the Seattle area decided to try SMS reminders to students, most of whom now had text-enabled phones. On his first visit to the schools, one sales rep offered a free class ring as a drawing from any students who signed up to receive text alerts, and the campaign was a huge success. This same rep let us know he saved over $1,000 on postage by using SMS marketing instead.
Check out the Jostens case study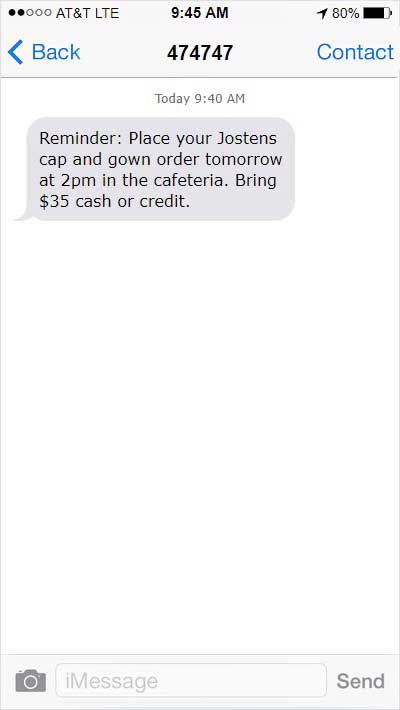 4. Send Alerts for New Offerings
In some small businesses selling big-ticket items, customers are waiting for the perfect fit. This can be the case with cars, homes, or specialty hard-to-get items.
UAS Properties is a Chicago organization which develops and renovates affordable housing. Many of their potential renters don't make a decision quickly and call back regularly to learn of new listings or price reductions. UAS fields around 150 of these calls per day.
UAS decided to use text messages to communicate this information to potential renters. At lunch each day, the team sends out SMS texts with these alerts and the phones light up for the next 30 minutes with immediate responses. UAS also uses bulk text messages to collect past due rent. They save an estimated $140,000 per year by using SMS instead of an external collections agency. Learn more in the UAS Properties case study
5. Offer Non-Sales Tips
Sy Syms is famous for the slogan "An educated consumer is our best customer." Many companies find this to be true. The more your customers know about how to use your product or service to their advantage the better.
And in some cases, timing is critical in this education. For instance, the Choptank Electric Coop offered a program called "Beat the Peak," where customers could voluntarily reduce energy consumption during times when the coop was purchasing wholesale power at a high price. The cost savings could then be passed along to the program members.
Choptank considered email as a communication channel for this program but quickly realized that when you need to make sure your contacts read a message at a particular time, SMS is the way to go. 90% of text messages are read within the first 3 minutes of receipt.
Read the Choptank Electric Coop case study here.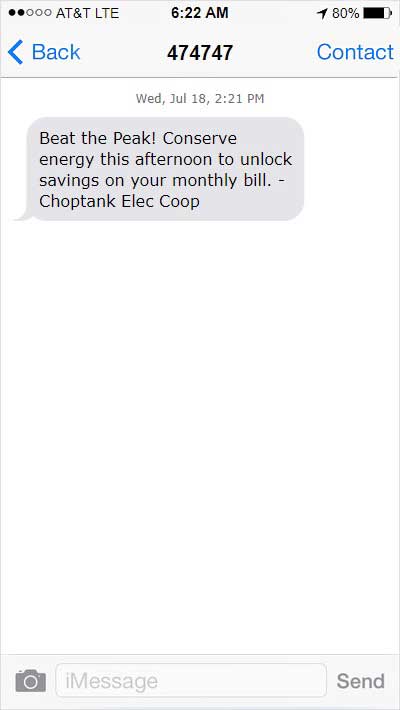 6. Give SMS Subscriber-Only Deals
Repeat customers are valuable to your business, so treat them differently. Offer your SMS subscribers deals that only they can take advantage of. When promoting text alerts, many marketers have found that using a name for these customers like "VIPs" or "Insiders" works well to make contacts feel special.
The Couch Tomato Cafe, a family-style restaurant in Philadelphia, has found great success with their VIP text program. Owner Craig Mosmen collected around 5,000 numbers over the course of a year leading up to his text program launch through paper forms and verbal signups at the point of sale.
He then sent his first special offer to subscribers: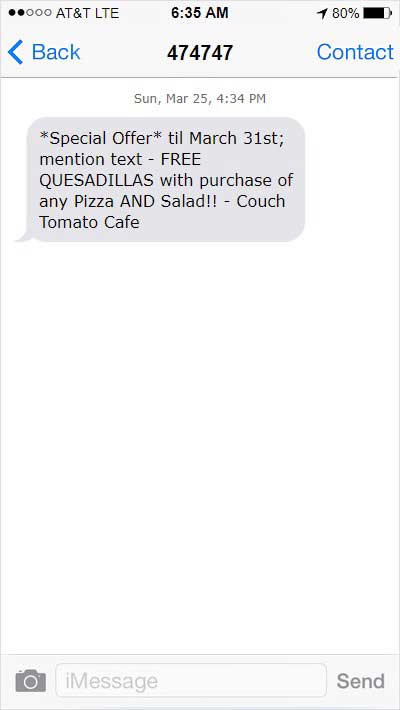 Mosmen estimates the restaurant took in 70 additional orders collected an additional $1,050 with this single text. Check out the Couch Tomato Cafe case study.
7. Fill in the Gaps
Almost every business has slow periods. But you still have to pay staff, utilities, insurance, etc. so smart companies find ways to bring people in the door when sales are typically down.
The Viking Range Company holds a cooking school in 16 locations throughout the US and found itself in that situation. Some classes are naturally more popular than others, so they decided to promote low-attendance courses heavily through text message marketing.
One recent text filled eight class spots, valued at $79 each—a single text message that cost less than $15 to send resulted in an additional $632 in revenue.
Learn more by reading the Viking Cooking School case study.
8. Celebrate the Holidays
Many businesses find clever ways to tie their product or service into popular holidays. For instance, a dentist might offer a discounted checkup during the first week of November (after the Halloween candy binge). Or a Mexican restaurant might throw a party with free appetizers for Cinco de Mayo.
Even if your company doesn't tie a product or service into a holiday, you can still connect with your contacts by sending a holiday-themed MMS message. We've created free, downloadable MMS templates for holidays such as Labor Day, Father's Day, the 4th of July, Valentines Day, birthdays, and more.
Put These SMS Business Ideas into a Market-Leading Strategy
Are the creative juices flowing yet? We hope you can use some of these eight business SMS ideas to fuel your business in the months to come.
Of course, just throwing a campaign or two out there with no planning isn't the best way to go. Consider how these text marketing campaigns fit into your overall strategy which may include other marketing channels.
We've developed a useful guide to help you synthesize mass text messaging with your other marketing channels so that you can reach your contacts in the right places with consistent messaging. Our free 5 Ways to Integrate SMS Marketing with the Rest of Your Campaign eBook includes tips to:
Boost conversions with effective calls-to-action
Cross-promote your offers across channels
Use unique content to make every medium valuable
Download "5 Ways to Integrate SMS Marketing" Now
Photo: Getty Images/phive2015
Join the 160,000 customers who have used SMS marketing to connect with their audiences.