Reducing No-Show Appointments: 6 Creative Methods for 2019
---
$150,000,000,000.
If you count the zeros, that's 150 billion dollars. According to recent estimates, that's how much money the healthcare industry loses annually because of appointment no-shows. That's more money than the total GDP of most countries in the world!
Even if you're not in the healthcare industry, that number should tell you something. Your business is absolutely losing money because of no-shows.
The good news? There are a few quick and easy solutions to dramatically reduce appointment no-shows. Here are 10 impactful ways to reduce appointment no-shows and give your company a significant increase in revenue.
6 Creative Methods for Reducing No-Show Appointments
Now that you know how much money is on the line, cutting no-show rates may be the most valuable task you can perform. The fact is, your customers are already sold, now you just have to get them to walk through the door.
1. Send Text Reminders
If you haven't heard, text messaging is a preferred communications channel utilized by millions of people daily. In fact, recent data indicates that nearly 100% of text messages are opened within the first few minutes of receipt. As a best practice, always include your business name and location in all text correspondence.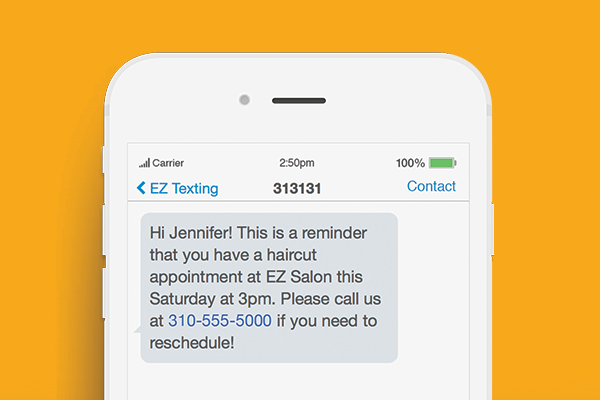 Try copying these simple templates:
Hello [NAME]. You are scheduled for an upcoming appointment on [DATE] at [TIME]. [BUSINESS NAME] is located at [ADDRESS]. If you have any additional questions or concerns, simply reply to this message. We look forward to seeing you!
In most instances, partnering with an experienced SMS marketing provider is the simplest and easiest way to start sending appointment reminders right away.
2. Send Email Reminders
Many businesses use email as a means to reduce appointment no-shows. Most email marketing providers make it easy to infuse a bit of personalization and automation into appointment reminders. These kinds of features take a lot of the legwork out of building, deploying, and managing reminders.
However, emails often go missed. Many industry-leading businesses and organizations invest in mass text messaging as an email alternative.
3. Use Google Calendar
If your business uses Google Calendar, you can easily create appointment reminders. As a best practice, always include a link to confirm the appointment and other relevant information such as date, time, and location. Keep in mind that customers will need to have a Google Account to receive Google Calendar invitations.
4. Offer Prepaid Appointments
Try getting your customers to prepay for appointments. When customers supply payment in advance of the appointment, they are more likely to show up. Beyond requiring a full payment, you could even charge a cancellation fee to reduce no-shows. The fact is, when money is on the line, customers will do whatever it takes to make a scheduled appointment.
5. Reward Customers
For patients who keep their appointments and arrive on time, try rewarding them with a small discount on their next bill. You could even enter on-time customers into a monthly gift card raffle. It's a simple gesture that builds patient loyalty and cuts down on the risk of appointment no-shows.
6. Publicize Your Policy
In most cases, instituting a standard operating procedures notice will help to keep scheduled appointments top-of-mind. Make sure patients read and sign a missed appointment policy during their first visit. Additionally, posting a sign at the front desk is also helpful.
Reduce No-Show Appointments With Text Messaging
Sending an appointment reminder via text messaging is just the tip of the iceberg. You can do so much more with text messaging. As an industry-leading text marketing provider, we've helped thousands of businesses achieve texting stardom.
Does your business have what it takes to unlock the power of text marketing?
To get started, we recommend downloading our free guide. In this guide, we show you the nine steps all successful text marketers take to master text message marketing. Following these nine steps doesn't necessarily guarantee success, but it will give you a head start. If you want to start fast, these are the steps to take.
Photo: Getty Images/Pinkypills