How Nonprofits Can Use a Short Code Text App to Grow a List of Potential Donors
---
Like most nonprofits, your organization is probably looking for ways to increase its donor base. At a recent nonprofit technology conference, Ellen Pascale of the Humane Society of the United States (HSUS) explained, "At HSUS, fundraising texts last year averaged a click-through rate 20 times greater than the average nonprofit fundraising email and a response rate 10 times higher."
This organization leverages a powerful piece of technology to grow a list of potential donors and maximize its fundraising effectiveness. Short Message Service (SMS) marketing is one of the most proven and cost-effective methods for building awareness, attracting donors, and much more. The most successful nonprofit organizations have been using text marketing for years, and if you haven't made the investment by now, your organization is behind the curve.
The good news? You can invest in a short code text app right now and launch your fundraising efforts into the stratosphere.
How to Use a Short Code Text App to Reach More Donors
Here are the five ways you can use a short code text app to reach more donors.
1. Donation Requests
An SMS marketing system makes it easy to send simple donation requests. Most text-to-give campaigns are issued during special seasons of giving or annual fundraising drives. As a best practice, be sure to include a distinct call-to-action in all your donation request text messages. This can be done through a URL shortener.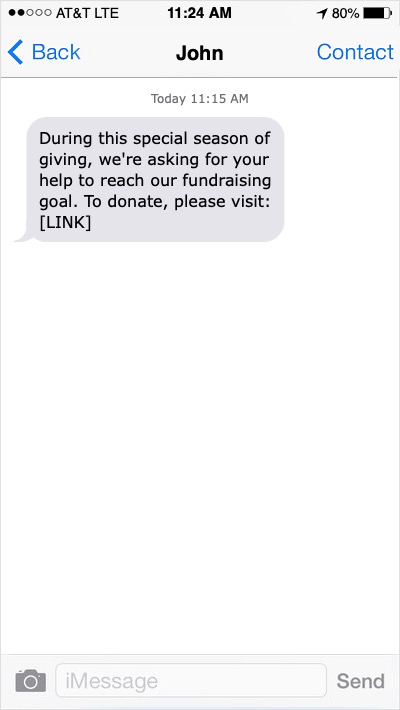 2. Project Updates
Sending a project update via text is a great way to interact with potential donors. An SMS marketing tool enables nonprofit organizations to send Multimedia Messaging Service (MMS) texts to contacts. Recent studies indicate that text marketing contacts are more likely to engage when texts include a powerful image or graphic. Use this as an opportunity to share project updates. For example, if your organization is revitalizing a house, a quick before and after image is a great way to keep donors interested and engaged.
3. Event Promotions
Are you hosting an upcoming event? Sending an event reminder is quick and easy with text messaging. With text message marketing, there's no easier way to keep contacts in-the-know about important fundraising campaigns, donor appreciation events, and more.
4. Issue Advocacy
Getting the word out about important issues is critical when it comes to getting donors behind you and your mission. Unfortunately, printed newsletters and pamphlets fall on deaf ears. A short code text app will give you the ability to send out important information related to your specific cause.
5. Volunteer Opportunities
Organizing a group of volunteers can be a hassle. Oftentimes it feels like an endless game of phone tag. To make matters worse, coordinating across multiple schedules and locations adds an additional layer of complexity. Give volunteers all the information they need – date, time, location – in one simple and easy-to-read text.
Text Messaging Is the Future of Nonprofit Marketing
As an industry-leading text message marketing provider, we understand that nonprofit marketing and communications comes with its own unique challenges, including limited marketing budgets, difficulty finding the right channels, and more. When the success of your organization relies on attracting new donors, you don't have time or money to waste on marketing that doesn't work.
The benefits of text message marketing and communications extend to both nonprofit marketers and donors alike. Investing in a high-powered and results-driven text marketing tool means that your organization is well-equipped to deliver personalized, targeted, and engaging marketing to prospective donors.
To kickstart your text marketing activities, we recommend downloading our free playbook. In this guide, we'll give you the top text marketing "plays" every successful nonprofit organization uses to inspire increased engagement from supporters.
Photo: Getty/Kritchanut