How Text Message Scams Threaten SMBs (And How to Protect Your Brand)
---
If you haven't heard, phishing scams affect thousands of consumers and businesses per year, and if you aren't privy to the latest phishing prevention techniques and tactics, your business will be next. 
As a small or medium-sized business owner, you need to be aware of threats to your business and stay vigilant. Unfortunately, scammers have picked up on the rising popularity of text messaging, and they are jumping into this platform to unleash a new wave of attacks. 
Are you up-to-date on the latest text messaging scams out there?
5 Ways Text Message Scams Threaten Your Business (And What To Do About Them)
Thieves have been taking advantage of unsuspecting businesses for as long as there have been businesses to take advantage of. 
Technological advances give aspiring con artists more platforms to attempt to outsmart you. It's your responsibility to stay up-to-date on the latest attacks and avoid becoming the victim.
To help you keep your business safe, here are 5 of the most common SMS text message scams that are threatening your business.
1. Buying and Selling to Strangers
Have you ever used Craigslist or Facebook Marketplace to purchase new office equipment or sell old office furniture? These online marketplaces are great for buying and selling products. Unfortunately, scammers routinely visit these websites and attempt to trick businesses out of money. 
In one example from Fox News in Colorado, a Craigslist ad for a laptop computer for sale asked potential buyers to send a text message. 
The seller received multiple text messages from potential buyers stating that they wanted to pay immediately through PayPal. There were some huge red flags across all of these messages. For one, the buyers were offering to pay more than the sale price, spoke in broken English, and was very pushy about getting the transaction finalized quickly. 
When the seller provided an email address for payment, they received a payment confirmation email that appeared to be from Paypal. Unfortunately, this email was fake, and no money had actually been transferred.
What Your Business Can Do
It's risky to conduct business over text messaging, especially with strangers. Always ask to meet in person and find a SafeTrade Station in your area to meet with the seller or buyer. If you're selling, only accept cash. Likewise, if you're buying, be prepared to pay with cash.
2. Fake Banks
In this smishing scam, victims receive a text message that seems to come from their bank asking them to respond to a feigned emergency. These messages ask businesses to provide personal information like an account number. 
For example, you may receive a text message that says something like: "Dear NAB Bank User, We have detected some unusual activity. We urgently ask you to follow the account review link: http://bit.do/nab-bank"
If you follow this type of link and provide any personal or account information, it can be used by the scammers to steal your identity and even steal funds from your bank.
What Your Business Can Do
Start by educating yourself on your financial institution's texting policies. Many banks publish pages on their websites for their customers that detail common scam attacks and how to avoid them. For example, Great Southern Bank took the time to put together a helpful and informative page on their website that explains smishing to its customers. 
When in doubt, never click the links or call the numbers in the text messages. Instead, call your bank and report the message.
3. Free Money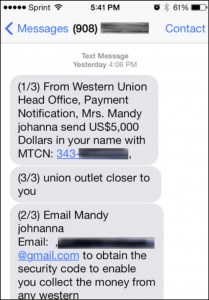 Example Provided by VCU Phishing Net*
Have you ever received a text message stating that you won a free gift card or voucher? Perhaps you received a text message that offered up an unexpected deposit? If so, your business might have been the target of a popular "free money" scam.  
Typically, these scams ask recipients to click on a link to claim "winnings." In most cases, these links redirect to a page that requires recipients to enter some sensitive information. Scammers will then use these inputs to steal money or perform other fraudulent activities. 
What Your Business Can Do
If it seems too good to be true, it probably is. When in doubt, always assume that these types of messages are scams. If a bank or company is listed, you can always call them directly (not using any phone numbers provided in the message) and inquire to see if it's legitimate.
4. Account Suspension
In most cases, owners at small to medium-sized businesses have multiple checking or savings accounts, and any disruption to these accounts is a huge burden. You'd be concerned if your primary business checking account was hacked, wouldn't you? Unfortunately, an account suspension attack plays on this fear. In this scenario, scammers will send a text message stating that your account has been "compromised." To "resolve" the matter, the scammer will ask you to call or a number or click a "support" link.  
From there, the scammer will typically ask you to provide sensitive account information. With your information, these tricksters will steal your money or identity.  
What Your Business Can Do
Again, never click the links or call the numbers contained in these types of messages. You can always go directly to the source and call to find out if it's valid. 
5. Government Messages
As a business owner, you have many interactions with state and federal government and regulatory agencies. You'll have everything from licenses to taxes and signage requests that you'll need to talk with them about.
Scammers know that you'll treat messages from government entities more seriously and will be more likely to fall for their scams.
These smishing messages may include something like: "IRS Notice: Tax Refund Pending! Click here to enter your information to receive your refund."
What Your Business Can Do
Remember that government institutions will never ask for personal or financial information through text messages. They will never ask for things like bank account information, pin numbers, or social security number.
Messages from governments are also typically announcement-type messages and will not ask you to click a link or call a number. For example, FEMA is starting to use texting to communicate during emergencies. Their messages are informational and will not ask for replies.
Text Marketing Is Also Used for Good
Fortunately, there are far more businesses that use text marketing for good. With the right text marketing strategy and a keen eye for text messaging do's and don'ts, your business can achieve texting stardom.
Texting messaging can help you effectively promote your goods and services, increase customer engagement, send alerts to subscribers, and even automate appointment reminders. Learn more about what you can do with texting in your business by downloading our free guide filled with Four Strategies for Successful Text Marketing.
Photo: Getty/Kerkez