What Is Smishing? 3 Things Businesses Need to Know About Texting Scams in 2019
---
Smishing. It's a fun word to say. Try it out loud – smishing!
However, for those who have been victimized by it, smishing is no fun at all.
If you haven't heard, smishing (phishing via SMS) is a new security attack in which users are tricked into downloading a virus or other piece of malware. These kinds of fraudulent activities end up costing businesses thousands of dollars per year!
And while some consumers might recognize these types of text messages as scams, many unsuspecting users don't. To keep your customers up to date on the latest information regarding text security, let's take a deeper dive into these texting scams.
What Is Smishing? 3 Things Businesses Should Understand About Texting Scams
Have you ever received a text message like this?
We're confirming you've signed up for our dating service. You will be charged $2/day unless you cancel your order: [LINK].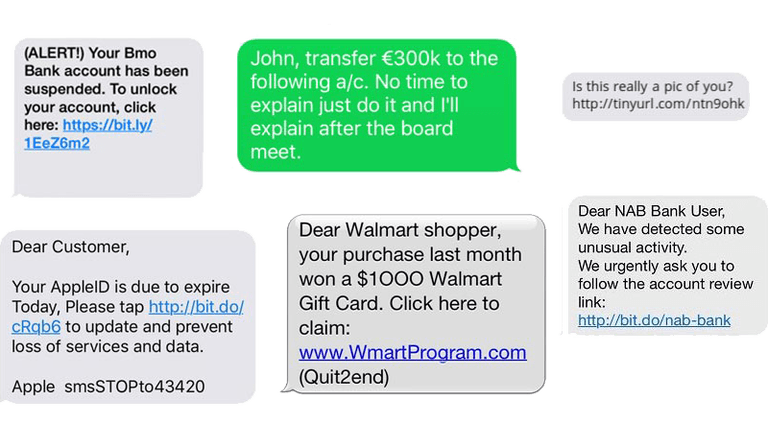 (Image: Digital Trends)
Fearful of incurring charges, many will visit the website highlighted in the text message. In most cases, these links lead users to a "software" download. Unfortunately, this download can be used to launch denial of service programs and other harmful security compromises.
Beyond the standard definition, here are some other things your business should understand about smishing attacks.
1. Smishing Is Widespread
For many cybercriminals, texting is an ideal medium for social engineering attacks. Why? It's one of the most popular and widely used communications tools. In fact, recent studies indicate that approximately 900,000,000 texts are sent every hour of every day. That's more than 15.2 million text messages per minute! Additionally, more than 90% of text messages are opened within the first few minutes of receipt.
Unfortunately, thousands of users fall prey to smishing attacks. In 2016, news agencies reported that Edward Smith, a customer of Santander, had lost £22,700 in a smishing attack. The fraudsters had sent him an SMS alerting him to some questionable activity on his account. Knowing he had not authorized these transactions, Smith called the number in the message. Smith was ordered to generate a "one-time password" in order to reverse the transactions. With the information Smith gave, fraudsters were able to access his bank account.
2. How to Protect Your Business
To safeguard your business and customers from harmful smishing attacks, we recommend not replying to text messages from people (or businesses) that you don't know. This is especially true when the SMS comes from a phone number that doesn't necessarily "look" like a phone number.
Additionally, don't click on links on your phone unless you know the person that the link is coming from. Even if you get a link from a friend, we recommend verifying the link before clicking on it. Also, avoid installing apps sent via text message. Any app you download should come directly from official app stores.
Above all, err on the side of caution. If you doubt the legitimacy of a text message, don't even open it. Remember, it only takes one bad text message to totally compromise the security of your mobile device.
3. How to Respond to Smishing Attacks
It's easy for some to read the case like Edward Smith and go: "I would never fall for this scam – I wasn't born yesterday." However, text scammers will go to incredible lengths to take life-changing sums of money from consumers.
If your business falls victim to a smishing attack, follow these steps:
Block the telephone number.
Submit unwanted or unwarranted phone numbers to the FCC: https://www.ftccomplaintassistant.gov
Using Text Messaging for Good
We should have prefaced this article saying that text messaging isn't all gloom and doom. In fact, many of the most successful brands use business text messaging for good, and your business can too! As an industry-leading text marketing provider, we've worked hard over the last decade to make sure that our platform is easy to use and powerful. In turn, we've had the privilege of working with 160,000+ businesses.
There are no contract obligations or obligations to upgrade to a higher level of service. For more details or to find out how mobile marketing can help grow your business, our textperts are always available to answer your questions or concerns.
For an extra leg up on text marketing, we recommend downloading our free guide. In this guide, we show the nine steps all successful text marketers take to build and deploy a successful text message marketing campaign. If you want to start fast, these are the first nine steps that your business must absolutely take.
Image: Getty/Kerkez