6 Examples of Phishing Text Messages and How to Fight Back
---
What would you do if you walked into the office tomorrow morning and found out that your company was robbed out of thousands of dollars?
You'd probably call the police, right?
What would you do if your business got hit by a phishing text message scam? It's really the same thing, just a different type of thievery. Unfortunately, phishing scams affect thousands of consumers every year. If you haven't heard, smishing (phishing via SMS) is a new security attack in which users are tricked into downloading a virus or other piece of malware. It's a serious dilemma that can cost people thousands!
The biggest problem with phishing is that it's especially difficult to detect. And while most people think they'd never fall victim to it, many people do, and they don't realize what's happened until it's far too late.
To help you differentiate between a real and fake text message, here are six examples of phishing text messages and what you can do to fight back.
6 Examples of Phishing Text Messages
There are hundreds of phishing text scams out there. Many of the world's most popular brands, including American Express, Bank of America, and Craigslist have fallen victim to these and other fraudulent. By educating yourself, you can be better prepared to fight back.
1. iCloud ID Verification
Have you ever received a text message asking you to verify your Apple iCloud ID? If so, you might have been the target of a popular phishing text message scam.
Apple will never send you a text message asking you to verify your account information. Additionally, Apple will always address you by your name or the name that the company has on file. If you think your Apple iCloud ID has been compromised by an unauthorized user, change your password and review all security information connected to your account including alternate email address, rescue email address, phone number, and security questions.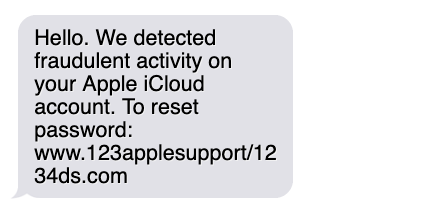 To report these types of messages, send an email to reportphishing@apple.com.
2. Craigslist False Interest
If you've ever sold anything on Craigslist, you know how long it takes to drum up some interest from potential buyers. Unfortunately, many users fall victim to popular "false interest" text message scams. In most instances, the SMS will nearly always contain a URL directing to a fake Craigslist login page. These URLs are craftily chosen to mimic authentic Craigslist URLs. A genuine Craigslist URL will often contain a place name in the URL such as https://anchorage.craigslist.org.

If you believe that you have been a victim of a Craigslist text message phishing scam, see https://www.craigslist.org/about/help/phishing for more information.
3. Free Bitcoins
In recent years, there's been a ton of allure around bitcoin. If you haven't heard, bitcoin is a new and exciting form of currency. Unfortunately, cybercriminals are using mass text messaging to hijack the computing power of users' phones to mine for bitcoin. In most cases, mining bitcoin requires an enormous amount of computer processing power, so by tapping into gullible phone owners, criminals can crowd share mining operations.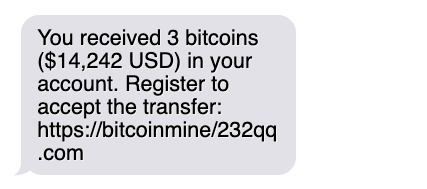 As a best practice, get into the habit of scanning URLs and remember to double-check the URL to make sure that you're visiting the correct site. And remember, if it seems too good to be true, it probably is.
4. Best Buy Gift Card
As gift cards have gained popularity in recent years, there's also been an influx of criminals trying to trick consumers out of their money. These scams always encourage users to visit a URL to claim a free "reward." These messages require users to submit important account or other confidential information. Once the confidential information is obtained, identity theft or other forms of theft can occur.

If you feel you've been a victim of gift card fraud, contact your local law enforcement, the consumer protection division of your state's Attorney General or the Federal Trade Commission at www.ftc.gov/complaint.
5. PayPal Account Locked
Other cybercriminals use PayPal to target unsuspecting victims. These messages are usually urgent, warning contacts that their account has been deactivated or locked. If you call the number, respond to the text message, or supply account information, you'll be talking directly to fraudsters.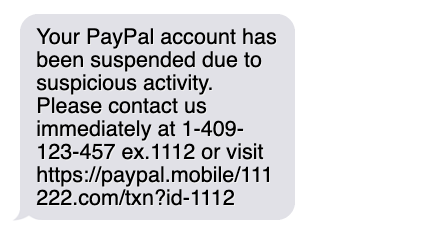 If you come across a suspicious link or website, contact PayPal. Just copy and paste the site's URL into an email message and send it to spoof@paypal.com.
6. Verizon Account Update
Verizon Online has been made aware of a new phishing scam targeting Verizon customers. This text scam attempts to lure customers into providing sensitive account information and/or download virus infected programs.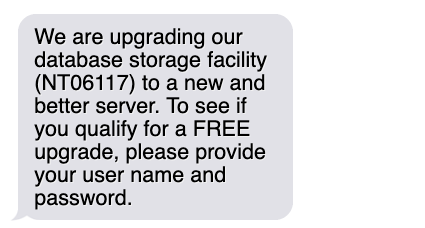 If you receive a text message similar to the one above, you should delete it immediately. Do not respond to the text message, click on any links, or provide any account information.
Fight Back Against Phishing Text Messages
As a best practice, if your business receives text messages from an unfamiliar contact, delete the message. Additionally, never supply personal information via text message and avoid visiting unfamiliar hyperlinks. Spammers often ask for this information in an attempt to steal your email address, your money, your credit, and your identity. It's a serious issue that compromises thousands of businesses yearly!
Fortunately, the number of enterprises that use business text messaging for good far outweighs the number of fraudulent text message users. If you're interested in learning more about the benefits of text message marketing, we recommend downloading our free, in-depth guide. In this guide, we'll show you the nine steps all successful businesses take to reach text marketing stardom.
Photo: Getty/Chainarong Prasertthai
Join the 165,000 customers who have used SMS marketing to connect with their audiences.